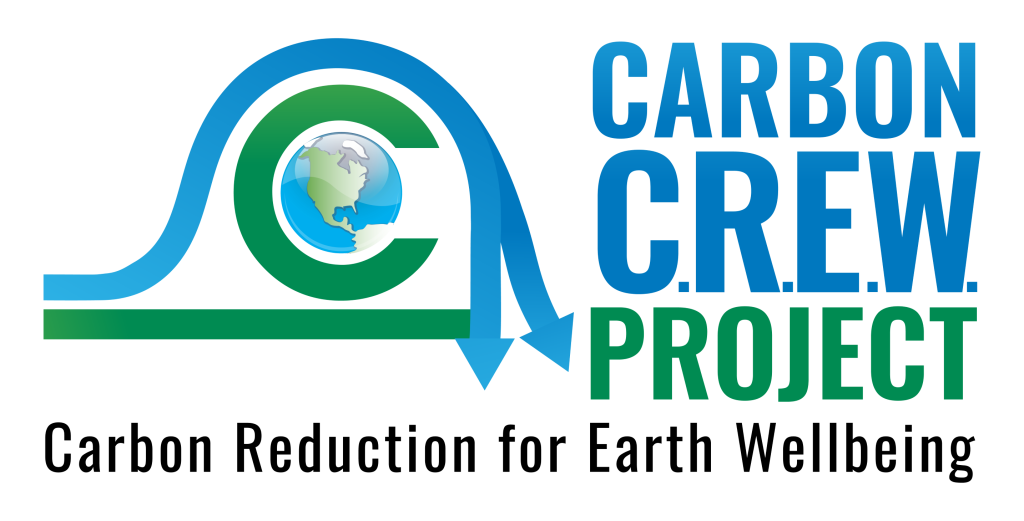 Welcome to your June CREW News!
With the unofficial start of summer in the rear view, we're looking forward to MORE time outside, MORE outdoor gatherings, MORE opportunities to connect with one another and the natural world around us.
So, without further ado, here's what you'll find in this month's CREW News:
Carbon CREW Food Waste Pledge
NEW! – CREW Energizer
World Environment Day
Sylvester Manor Recap
NYS Climate Leaders
Upcoming CREWs
---
Take the Food Waste Pledge!
If you've been here for a while, you're already heard us tout the benefits of reducing your food waste. It's a win-win-win for our environment, health, and wallet, so choose to commit to reducing your food waste and take the Carbon CREW Food Waste Pledge!
By reducing food waste, up to 88 billion metric tons of carbon dioxide can be saved by 2050, which is more than all the emissions saved by solar, wind, and electric cars combined.
And that's not all: reducing your food waste can save you money, benefit your health (actually using your groceries over ordering takeout again), solve world hunger, and work to create a more resilient and sustainable food system.
Taking this one action can have a huge impact! So go ahead—join your friends and neighbors, and take the Carbon CREW Food Waste Pledge by clicking the button below. Once you're done, share the pledge with five friends. YOU can spark the exponential transformation for a flourishing planet NOW!
---
Need some help reducing your food waste? Check out our blog post on food storage tips to make your groceries last longer. Properly storing your food can keep it looking and tasting fresh for much longer, keeping perfectly good food away from the trash or compost!
---
A great way to reduce your food waste is to shop for groceries… in your own home! My family is guilty of hoarding food in our fridge, freezer, and pantry, so I've challenged myself to make meals with items I have at home. Check out this video for inspiration, and if you're feeling creative, try making your own! Tag us @carboncrewproject if you post it on social media or send us your recipes/stories/videos to get featured in our newsletter!
---
CREW Energizer
Reconnect with the CREW Community during one of our monthly CREW Energizers!
Energizer: a person or thing that energizes.
Share your CREW accomplishments, discuss challenges, and feel reenergized to execute your PCAP and take steps towards building a regenerative future. Plus, learn about Carbon CREW Project's insider plans, goals, and obstacles as we take strides towards sparking the exponential transformation needed for a flourishing planet NOW!
These Energizer events will take place on the first Thursday of the month at two times during the day: 1:00 pm EDT and 8:00 pm EDT. Register for either one at the time that works best for you. Let's get reenergized about climate ACTION!
---
World Environment Day
June 5th is World Environment Day! This year's theme? #BeatPlasticPollution!
You probably already know that plastic poses an enormous threat to the health of our planet and every living thing on it. But what can you do about it?
While it's up to governments to implement plastic-restricting policies, individuals have the power to both motivate policy change and affect supply and demand. By choosing plastic-free alternatives, you can influence businesses and companies to alter their wasteful practices.
Let's eliminate plastic pollution together by…
Becoming intentional about avoiding plastics, especially single-use plastics. Replace storage containers with glass, use waxed cloth and waxed paper instead of plastic wrap, buy reusable water bottles, throw a utensil set in your bag, etc.
Boycott over-packaged food and tell the seller why you are boycotting it. Consider posting about it on social media.
Switch to refillable cleaning supplies.
Many clothing items are made with plastic. Make your clothing last longer by drying it less (hang dry instead) and repairing it when it rips or breaks.
Support local bans on plastic materials (bags, straws, single-use tableware).
Joining a CREW or starting a CREW and connecting with other people about their solutions to plastic waste 😉
Use this interactive map to find registered World Environment Day events!
---
Climate Leadership in NYS
Carbon CREW Project's home state is HOT with climate leaders!
Over the past couple months, we've been developing relationships with Climate Reality Project and Rotary's ESRAG New York State chapters, and League of Women Voters of Hamptons, Shelter Island, and North Fork. These organizations are leading the charge for climate action, and we're thrilled to be working with them to bring this action into every household.
---
Sylvester Manor Walk: Recap!
We had an absolutely stunning walk and tour of Sylvester Manor two weekends ago with our brilliant guide, Sara Gordon! A big thank you to her and the Manor for hosting our tour and teaching us the rich history of the land and those who have lived and worked it. And thanks to all of you who joined us on such a gorgeous day!
---
Upcoming CREW Sessions
Create your Personal Climate Action Plan with the support and accountability of a caring, like-minded community. Sign up for one of our upcoming CREW sessions below:
Have you already been in a CREW? Take the next step by accessing our free CREW User Guide and multiply your positive impact on our planet!
---
Thanks for reading CREW News!
Questions? Comments? Feel free to reach out to us with what's on your mind by emailing info@carboncrewproject.org, or by replying to this newsletter.